Adrianna Romero | Attorney
Adrianna represents clients in business and family immigration law including non-immigrant and immigrant petitions, waivers, permanent residence applications, consular processing, naturalization, and DACA applications among others.
Adrianna's gained experience in immigration even prior to earning her Juris Doctorate from the University of Denver in Denver, Colorado, as she spent 6 years working with F-1/J-1 students and scholars at the internationalization office at DU. During law school, she served as a Law Clerk for Denver's Juvenile Court and volunteered with several local organizations that provide free legal resources and representation to Colorado's underserved and underrepresented communities. Prior to attending law school, Adrianna received a Bachelor of Arts from the University of Denver with a triple major in Political Science, Psychology and Spanish.
Adrianna is licensed to practice law in the State of Colorado, and she is an active member of the American Immigration Lawyers Association (AILA). She volunteers with several organizations that provide pro bono services to immigrants.  Adrianna is a proud daughter of immigrants; she is bilingual (English and Spanish) and multicultural. Apart from practicing law, she enjoys reading true crime mysteries and spending time with her family and dogs.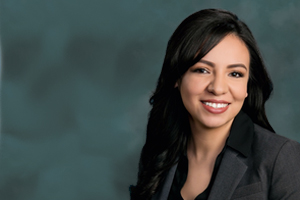 Adrianna Romero | Attorney